Welcome to Visionalist Entertainment Productions.
We are a Michigan based production company dedicated to making socially-conscious documentary films that help enrich lives. We craft these full-length stories all for PBS here in Michigan and throughout the country.
Our eleven-time Michigan Emmy-awarded team of producers, editors and video photographers, led by Executive Producer Keith Famie, pride themselves on how deeply they will follow a story. We often become emotionally involved, and in many cases, the process impacts our own lives personally.
We are proud of the relationships we have developed over the years with supporters and sponsors who share our desire to tell a compelling story, knowing the documentary would help an audience become inspired, educated and in turn, benefit their own lives.
We have amassed a large body of work. We quite often have more than one project in the works at the same time. Click here to view our full page bio. We also offer our services for corporate or foundation stories as well as personal, "It's My Life", legacy-style films. You can go to this link to better understand these services, and this link to see examples.
We have some wonderful films planned for 2019 and we hope you will follow us on Facebook.
Thank you for taking the time to visit us here at Visionalist Entertainment Productions, where "We Tell America's Stories."
Keith Famie (bio)
Executive Producer
IN THE WORKS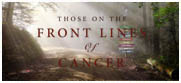 What can be done to stop this truly devastating disease?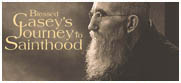 Blessed Casey Solanus' remarkable journey to sainthood.
FILM LIBRARY